AIR DUCT CLEANING SERVICES
Trained & Certified Indoor Air Specialists
The air in your home or office could be 10X more polluted than the air outside? To improve air quality, it is important to schedule air duct cleaning services on a regular basis.
Increase indoor air quality by expunging all that dust and dirt from your air duct system.
De-congested vents allow heating and cooling systems to run at their highest efficiency and more cost effectively.
Air duct cleaning is even more important to those of us who suffer from: allergies, breathing difficulties and sensitivities to smells.
Set up an industrial grade negative air machine next to your furnace to collect all the dust and debris throughout the air duct system. No open doors, no hoses, no hassels. 
Individually pressure clean all hot air vents, cold air returns and covers with our high velocity air compressor which uses an industrial HEPA filter. 
Air wash and vacuum all conveyance areas of the furnace system including the fan compartment and blower wheel. 
We will inspect your furnace filter and replace it with a new one. You simply supply it and we will install it. We will also clean the outside of your furnace and hot water tank too!
Apply an indoor safe sanitizer approved by Health Canada to your entire air duct system. This leaves your air ducts clean and your environment fresh smelling and completely contaminant free.
Clean your dryer vents as part of our air duct cleaning service at no charge. That's right FREE! We power vacuum and gently brush your vent to loosen and remove all foreign debris. Safety first!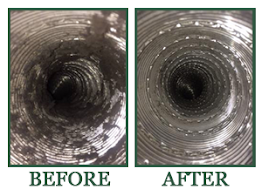 Safety is important to all of us. We use a variety of the latest indoor safe agents and products to thoroughly clean air ducts in your home or office. In particular, we use cleaning products from Benefect. Benefect is a company that provides a product line of green products, such as:
Multi-Purpose Cleaner
Quantum
Disinfectant
Impact
Atomic fire and soot degreaser
Not only do these green products disinfect and clean extremely well, but they are also plant based, safe for both residential and commercial clients as for those who have sensitivities or weak immune systems. Here at Jaiko Cleaning Services, we only use top of the line cleaning products, to ensure that all of our clients receive quality and safe air duct cleaning.